2020 UPDATE: As we continue to navigate the impact of COVID-19, the Pembroke Regional Hospital Foundation, like many charitable organizations, has been faced with difficult decisions regarding alterations to its organisational plan for the remainder of 2020.
The PRH Foundation is following the lead of many other Foundations across the country in order to adapt and ensure that the growing needs specific to our regional hospital are still met.
After careful consideration and in accordance with the forecasted directives from the Federal and Provincial Governments, as well and the Renfrew County District Health Unit, changes are being made to our annual events lineup in 2020.
Our Annual Christmas Card event will unfortunately, be cancelled this year.
See you in 2021!
[vc_row][vc_column][vc_column_text]
Our Annual Christmas Card
Each year the Pembroke Regional Hospital Foundation partners with young up-and-coming Ottawa Valley artists for the creation of a beautiful holiday card that celebrates our community.
Together, these cards are sold as a fundraiser for the Foundation and helps to expand comprehensive health care, closer to home!
When you make a donation via the Christmas Card Program, we will send out featured card to the special person on your Christmas List informing them that you have made a donation in their honour supporting local health care this holiday season. Click here to make a donation through the Christmas Card Program.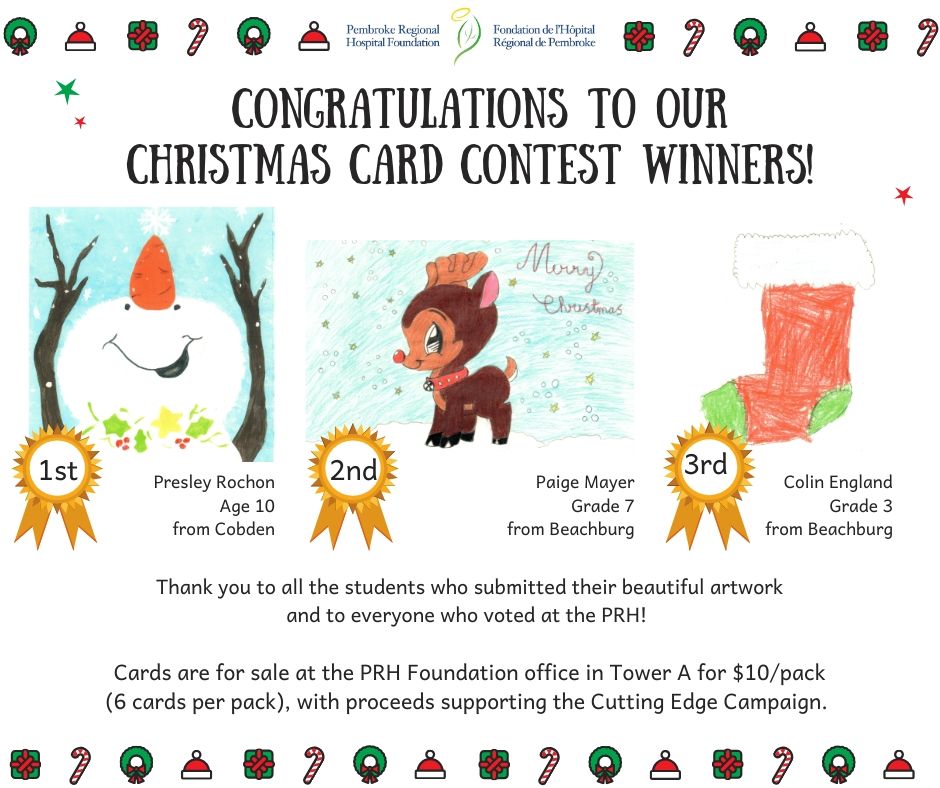 A Look at 2018's Holiday Season
For 2018, the PRH Staff helped select three top card entries designed by emerging talent from Renfrew County's elementary schools!
We held a contest that was open to all elementary-school aged children and invited them to send their Christmas, Hanukkah, and Winter Holiday scenes! Thanks to the Pembroke Regional Hospital Staff, three finalists' work were chosen to be the cover of our Christmas Cards!
[ngg src="galleries" ids="30″ display="basic_thumbnail" thumbnail_crop="0″]
Past Artists and their Work
[/vc_column_text][/vc_column][/vc_row]