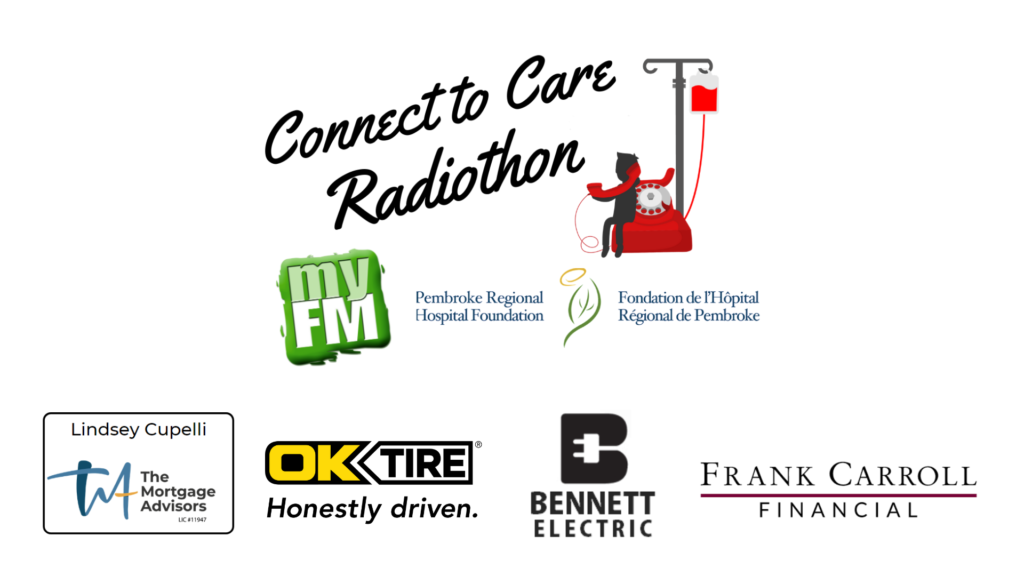 Join us for our 5th Annual Connect to Care Radiothon!
Bringing Health Care Closer To Home
On March 3rd, from 9am – 4pm, we will be taking over the airways as MyFM hosts the 5th annual Connect To Care Radiothon in support of the Pembroke Regional Hospital. Radiothon will take place exclusively on MyFM and fundraising will happen from January – March 3rd.
We are so grateful to all the businesses and individuals who make our local families and their health care needs a charitable priority. Your previous support towards our Radiothon has helped to equip the community and our health care team with new state-of-the-art equipment. We hope that we can count on your support once again, for this year's Connect to Care Radiothon.
With live broadcast over one of Renfrew County's most popular radio stations, the Connect to Care Radiothon is the ideal venue to showcase your philanthropic commitment to our community. As a sponsor or Community Ambassador, your gift demonstrates your dedication to local families by helping to ensure we have the best-in-class health care closer to home.
Each sponsor will be mentioned on the radio and published in the media. Recognizing our diverse range of support, there are added benefits to maximizing your contribution towards advancing medical care in our community.
All contributions are greatly appreciated as we work together to bring state-of-the-art health care to Renfrew County families. To make a donation click here. Visit our Sponsorship Opportunities page for more information about sponsoring the Connect to Care Radiothon. Visit our Community Ambassadors page for more information about becoming a Community Ambassador.
Many thanks for your consideration.