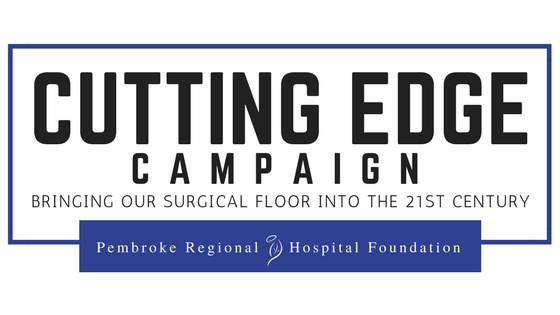 Whether it is our renowned Rehabilitation Unit, our serene Birthing Suites, or our famed MRI, we have accomplished much and supporters should be proud of the Regional Health care Hub we are molding. We still have lots of work to do as we continue to build upon the state-of-the-art services offered here at our regional hospital.
In order to fill the gap between government funding and the health care needs of our local families, continued community support is essential. Our new Cutting Edge Campaign must raise $2.5 Million of the $11.5 Million project price tag.
We were recently granted provincial approval to start a regional orthopaedic program here at PRH. With an aging demographic, this is very exciting news for our region. Part of our Cutting Edge Campaign is funding the one million dollar cost of new orthopaedic equipment and the second part of the campaign is modernizing the circa 1950 surgical in-patient rooms including the Day Surgery area. The overhaul of our Surgical Patient Rooms will address the safety and functionality of the current rooms while also enhancing the patient experience post-surgery.
This will help the Hospital remain at the forefront of life-saving technology, improve accessibility and expand regional capabilities.
The Pembroke Regional Hospital Foundation (PRHF) sincerely values all of its donors and is committed to ensuring that each donor is thanked and recognized. We sincerely appreciate your consideration and we hope that you will help support our campaign.
With heart-felt gratitude for those in our community who support local health care needs,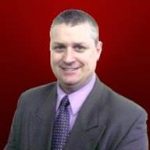 Roger Martin, Executive Director
Your PRH Foundation
For more information, please watch this short video on the PRH Foundation's Cutting Edge Campaign:
---
UPDATE: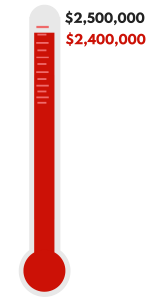 Since its launch in 2017, the Cutting Edge Campaign has raised $2.35 million of the $2.5 million goal in support of the Orthopaedic Program and also renovations to the circa-1950's in-patient surgical floor, which will improve safety, comfort and recovery for surgical patients.
Now, we are so pleased to share a sneak-peek of some of these upgrades and renovations.
While this draft preview shows just a sample of our future in-patient surgical floor, as the renovations progress, we will be eager to share that progress in the months to come.