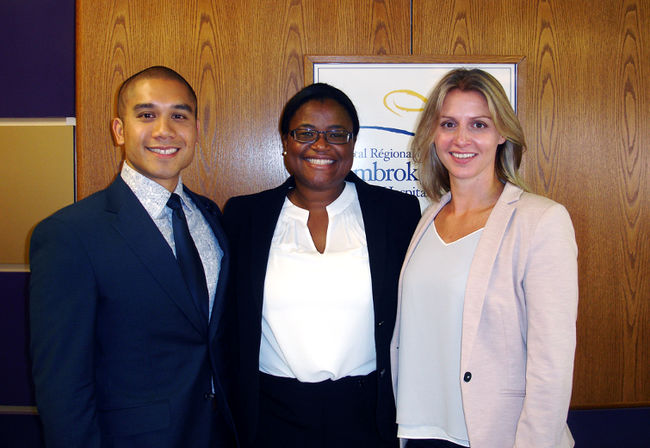 The Pembroke Regional Hospital recently welcomed orthopaedic surgeons (from left) Dr. Christopher de Jesus, Dr. Natasha Holder and Dr. Ingrid Radovanovic who will be part of the hospital's new full-service orthopaedic program.
The Pembroke Regional Hospital is excited to announce that three orthopaedic surgeons have been hired to help establish and operate a full-service orthopaedic program in our region.
Orthopaedics involves the inpatient and outpatient treatment of injuries and conditions affecting the musculoskeletal system. Repairing broken bones and replacing hip and knee joints, for example, are part of orthopedic services.
Dr. Christopher de Jesus, Dr. Natasha Holder and Dr. Ingrid Radovanovic are currently in the process of setting up and establishing their practices at the Pembroke Regional Hospital, said PRH President and CEO Pierre Noel, adding that they recently attended a full-day orientation session at the hospital during which they toured the facility and surgical suites, and were introduced to many of their professional colleagues.
"Our new orthopaedic surgeons are highly qualified, are collegial and will be a great fit within our medical team, the CEO added. "Family physicians are now being notified of the referral process for our new orthopaedics program and we are anticipating that the surgeons will begin patient consults in late November or early December with surgeries starting in the new year."
Dr. Christopher de Jesus grew up in Ottawa and completed his undergraduate and medical degrees at the University of Ottawa, before pursuing residency in Montreal at McGill University.
"I decided early on that I would like to dedicate my career to helping people. Orthopaedics was a natural choice for me," de Jesus said.
Growing up playing a variety of sports, he was exposed to a variety of injuries, which peaked his interest in anatomy, how to recover from injury and get back to activity as soon as possible. "Orthopaedic surgery allows me the opportunity to get people up and moving again – doing what they love," de Jesus added.
Having worked at the Ottawa Hospital, de Jesus, who is bilingual, said he has already treated many patients from the Ottawa Valley who had to leave home and travel for hours to receive the care they needed so is pleased to be bringing this care closer to home.
"I believe in bringing the absolute gold standard of care in orthopaedic surgery to the community. I have been trained in an excellent centre by world-0renowned orthopaedic surgeons and will continue staying up to date to make sure my patients have the best care available," de Jesus said.
Excited to establish his roots in the region and share his passion for health and fitness with his neighbours and friends, de Jesus said that his wife Emmeline, who is also a physician, has already started work in the PRH Emergency department. The couple has three children and enjoy an active lifestyle including running, biking and outdoor sports.
Dr. Natasha Holder also joins the hospital from Ottawa where she completed the Ottawa Orthopaedic surgery residency program in 2014. Since then, she has completed a fellowship in Upper Extremity and Sports Medicine at McMaster University and most recently did a fellowship in Musculoskeletal Oncology at the University of Ottawa. Holder received her medical degree in Ireland and both a Master of Science and Bachelor of Science in Physiology from McGill University in Montreal.
"I've wanted to be a doctor since I was five. I chose the field of medicine because I wanted to help people in a direct, lasting and meaningful way," Holder said. "During medical school I was first interested in general surgery, but switched to orthopaedics because of the opportunity to affect permanent and lasting change to patients' lives, and indeed their quality of life."
She added that she is excited to be part of the development of the orthopaedics program at PRH and since her husband is a career officer in the Canadian Forces, she looks forward, in particular, to working with the military community at Garrison Petawawa.
"I want to turn Pembroke Regional Hospital into a centre of excellence for orthopaedics in the region, serving patients from both Ontario and Quebec in the language of their choice. Both the military and civilian communities in the area deserve a high standard of care and I want to be part of that," she said.
An avid traveller, Holder said she and her husband enjoy cooking together or finding good meals in local restaurants. She also enjoys live sports and music.
Dr. Ingrid Radovanovic, who grew up in Edmonton, also received her medical degree and training in Ireland. In 2015 she completed a five-year orthopaedic residency at the University of Western Ontario and she recently completed an orthopaedic foot and ankle fellowship at Brampton Civic Hospital.
"I never intended to become an orthopaedic surgeon," Radovanovic said. "But after completing rotations in paediatric orthopaedics and adult trauma, the decision was easy. I loved the people I worked with and how much we assisted patients in a positive way. Helping take someone's pain away so they can get back to enjoying their life is a great motivator. I realize how lucky I am to be able to do this as a career."
Radovanovic said she looks forward to working with the other orthopaedic surgeons in order to be able to provide a strong orthopaedic program in the community and noted that the hospital staff at PRH has been very welcoming and supportive.
When she's not working, Radovanovic enjoys spending time outdoors and is excited to explore all that the Ottawa Valley has to offer. She added that while she's travelled quite a bit, she looks forward to settling down in a new community.
Dr. Tom Hurley, chief of staff at Pembroke Regional Hospital, described the establishment of the new orthopaedics program as a major advancement for local health care.
"We are very fortunate to have been able to recruit three enthusiastic, well trained surgeons who are all thrilled to be part of establishing this new program. This is an exciting time for our medical staff and having this program clearly enhances what PRH has to offer to our community."