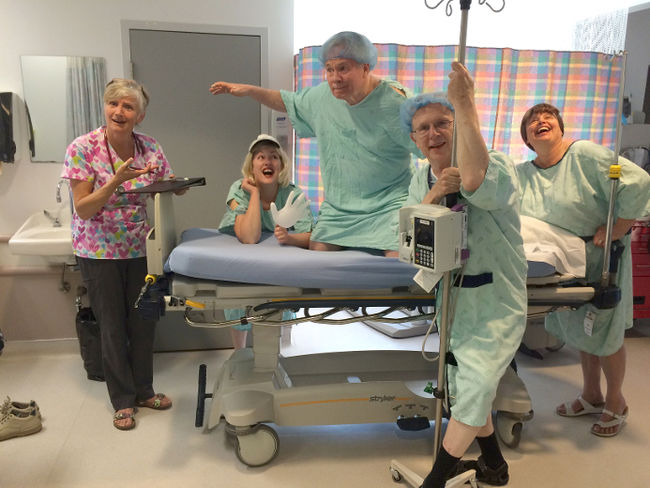 In partnership with local hospitals, Stone Fence Theatre is bringing its new fund-raising musical comedy, High Times to Barry's Bay, Deep River and Pembroke.
Proceeds from play attendance go directly to the local hospitals, so it's a great time for a great cause, the organizers says. This fall and winter, the show is touring the Valley, with the potential to raise at least $25,000 for hospitals and health care. The tour has already been to Eganville and Renfrew.
The musical comedy was written by Ish Theilheimer of Golden Lake, the company's producer, and directed by Barry's Bay resident Chantal Elie-Sernoskie. It celebrates Canada's health care system and takes a humorous look at the subject of aging Baby Boomers coming to terms with mortality.
"The show was inspired by my own personal experience as a patient at the Ottawa Heart Institute," says Theilheimer. "I have been so impressed by the care and service I've received both at the Institute and at all the local hospitals that are tied in with it. For instance, I received my first diagnostics in Barrys Bay and my rehab in Pembroke."
Heart Institute founder Dr. Wilbert Keon attended the opening of the show and said about the show, "It was fabulous, fabulous, fabulous! I just thought it was so bang on."
The plot involves four heart patients who find themselves thrust together by their health issues. They include Bobby (John Haslam) and Wendy (Fran Pinkerton), two aging rock and rollers and exes who can't stand each other, left-wing cynic Arthur (Peter Brown), and Tea Party American Maggie (Lesley Sneddon), whose health insurance company leaves her high and dry. Toni (Shirley Hill), a stressed-out and overworked nurse tries to cope with all their needs. In the end, Wendy uses a secret from her old hippie days to save the day. Conrad Boyce, Nigel Epps, Cathy Lyons, Elaine Neigel make up the chorus, known as "The Interns."  Derek Tolhurst plays bass, Evan Burgess plays guitar, and Theilheimer plays percussion in the show.
"It's a sort of cross between the Marx Brothers and Peter Pan," says Theilheimer. He says nurses and other health professionals have found the show particularly meaningful, with its portrayal of a stressed-out overworked nurse trying to take care of a demanding caseload. "They tell me it's like I've been reading their email," he said. "But that's because I have so many friends who are nurses, including two cast members, Shirley Hill and Fran Pinkerton."
In Barry's Bay, the show will be on Saturday, Oct. 29, at Madawaska Valley District High School. In Deep River, it will be at Mackenzie Community School on Saturday, Nov. 12. In Pembroke, it will be at Calvin United Church on Nov. 18 and 19, with all shows starting at 7 p.m.
Tickets cost $25.66 plus tax, with proceeds of the show going to support local hospitals.
Tickets for all shows are available from Stone Fence Theatre's website www.stonefence.ca, from the box office by calling 613-628-6600 or from other local outlets.