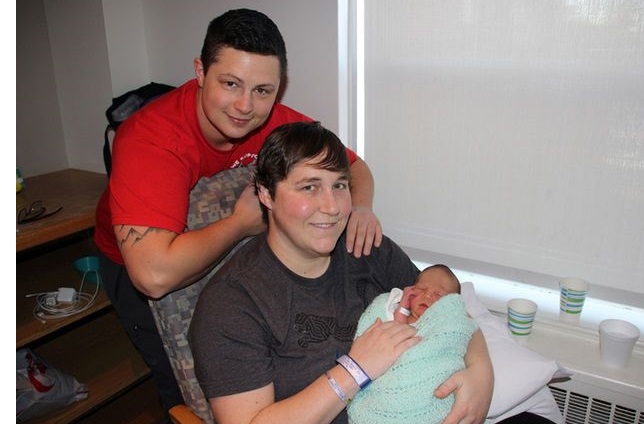 PRH welcomes the first baby of 2017!
Jessica and Jacob Elliot hoped to be spending their New Year's Day taking in the sights and sounds of Hometown Hockey. Their newly-born son had other plans.
The Petawawa couple had to skip the festivities at the Civic Centre to welcome Jude Lee to the world. The six-pound, nine-ounce newborn was delivered at the Pembroke Regional Hospital at 1:33 a.m. Sunday. Jude Lee Elliot is the couple's first child. His original due date was Jan. 7.
"He was small and wasn't growing anymore so he came early," said Jessica. "It's our first child so we were excited all around."
A native of Sarnia, Ontario, Jessica is a member of the Canadian Armed Forces. She serves as an operating room technician with Garrison Petawawa's 1 Canadian Field Hospital. The couple were posted to Petawawa from Edmonton in July. Although the newborn shares the name of one of the Beatles' most famous songs, "Hey Jude," written by Paul McCartney for John Lennon's son, Julian, his parents explain that the tune wasn't the rationale behind the name. Jacob, who hails from Vancouver, added it's an honour to have Pembroke's first baby of 2017 although the maturnity ward is pretty quiet at the moment.
"We didn't have a lot of competition so it wasn't hard to have the New Year's baby," he said.
Jude Lee was delivered by Dr. Sidhartha Mukherjee. The couple wished to thank the amazing nursing staff at the hospital. They wished to also thank the Our Lady of Sorrows Catholic Women's League for providing gift bags for the families of babies born at the hospital during the holiday season.
As for Hometown Hockey, the couple managed to catch bits and pieces of the broadcast on television. Little Jude has even watched a game or two from the World Juniors. His father predicts he will grow up to be a Chicago Blackhawk fan.
"He was pretty much born watching hockey," he added.
SChase@postmedia.com