Petawawa (ON) – Oh what a night!  Saturday October 13th marked the 7th Annual Black & White Gala in support of the Pembroke Regional Hospital Foundation. The event was held at the Normandy Officer's Mess at CFB Petawawa: a perfect location for guests to mingle with friends old and new, enjoy a gourmet meal, and dance into the early hours of the morning at the Ottawa Valley's premiere event.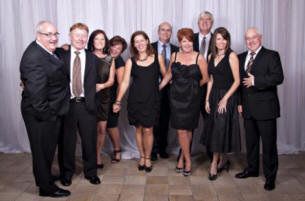 This year's Gala raised over $76,000 bringing the total from all 7 years to $638,000. The proceeds from this year's Gala will be donated to the PRHF's MRI: Image Matters Campaign to bring MRI to the Ottawa Valley.
The Normandy Officer's Mess was transformed with impressive décor infused with silver highlights, into a regal black-tied soiree. Attendees mingled over appetizers, and martinis. Guests were then piped into the dining hall by Cpl. Winston Tam. Prior to enjoying a delectable four-course dinner created by Marion and Willy Ullrich of Ullrich's on Main, guests were addressed briefly by Col. Kerry Horlock, Gala Committee Chair Marnie Stunt, Dr. Fred Matzinger, and Hospital CEO Pierre Noel.
After dinner, guests gathered to dance and sing the night away, led by the effervescent and talented Michael Sicoly.
"The dedication and hard work from all of our volunteers is truly inspirational," said Karen McEwen, Gala committee member. "Work on this Gala began in February, and continued right up until our first guests began arriving.  It would not be possible without their tireless support and motivation."
"We are truly fortunate to have such wonderful, generous supporters" reflected Mrs. Stunt. "We are thrilled to contribute the proceeds from the 7th Annual Black & White Gala to the MRI: Image Matters Campaign. To our volunteers, sponsors, guests, committee members, and staff of Normandy Officer's Mess: Thank you for your continued support."